How To Stop Beagle Jumping Problems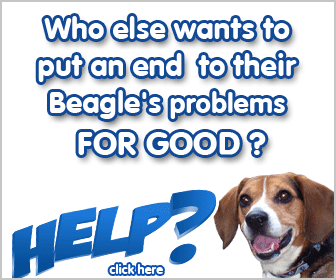 Do you have beagle jumping problems? No matter how well behaved and obedient your beagle is, a beagle that jumps up on you or on your guests can prove to be more than just an irritation – it can prove to be downright scary and even dangerous for small children. With a calm yet firm hand you can soon learn how to put an end to your beagle jumping problems.
The Sit And Down Commands
If you have not already taught your dog the sit and down commands now is the perfect opportunity to teach him these valuable commands. You will be able to stop your beagle jumping up by telling him to sit and lie down when someone enters your home.
Your dog should be able to understand what the sit, down, and stay commands are; be sure that you spend as much time as possible reinforcing the commands before you receive a guest into your home.
Using The Leash
While using the leash to stop beagles jumping is not an ideal method, it can certainly be an effective method to start the training process. With the leash on him, stand next to your dog at your front door when your receive guests into your home. When your beagle jumps up, tell him firmly "No!" Be sure that you don't use too harsh of a tone because you may run the risk of frightening him. Step on the leash so that when your dog jumps up the next time he won't be able to get far off from the ground; be sure to give him the "No!" command again so that he can understand why his movements are restricted.
The Nose Method
To stop beagle jumping using a rapidly effective method you should consider using a technique that involves pushing his nose towards the ground. Remember that the goal is to teach him that the jumping behavior is a negative one and not to injure him in any way. When your dog begins to jump hold out your hand and place it on his face, pushing him gently towards the ground while saying "down!" in a firm voice. You may need to repeat it several times but it is sure to be an effective method to help you stop beagle jumping problems that you may encounter with your dog.
While the issue of providing treats as a reward for good behavior is a somewhat controversial one between various dog trainers it could just prove to be incredibly effective for your dog. Every dog is different so the key to ensuring that your training methods work is to understand what will work for your dog. While the leash method may not be at all effective in helping you learn how to stop beagles jumping, you may find that using the sit, down, stay commands are training methods that work for your dog.
Remember to keep a calm demeanor and be as patient as possible. By losing your temper and possibly striking out at him you will only be shattering the levels of trust that you have build up with your beagle.